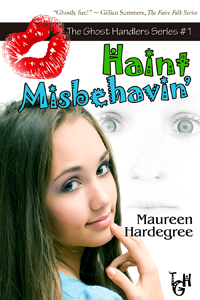 HAINT MISBEHAVIN'
Book 1 in the Ghost Handler series
Bell Bridge, June 2010
ISBN: 978-1-935661-93-1
Available at:
Bell Bridge
Amazon.com (paperback)
Amazon Kindle
BN.com (paperback)
BN NOOK
iBooks
Kobo
Google Play
What's a girl to do when puberty arrives with a complaint worse than cramps and bloating… a mischievous ghost friend?
In Haint Misbehavin', Book One of the Ghost Handler series, hypersensitive suburban Atlanta teen Heather Tildy acquires the ability to interact with ghosts in her fourteenth summer when her long-awaited period arrives. Her plans for the next two months had been simple-convince pain-in-the-butt older sister of her worthiness and gain the attention of hot lifeguard Drew Blanton. All Heather's haint friend Amy wants is to have some fun at Heather's expense. But as a teenager with a deep voice, still living down her pre-school Princess and the Pea nickname, Heather doesn't need the additional ridicule that comes with the ghost. She's determined to find the true reason behind Amy's haunting, reverse the embarrassing impression of her Drew has acquired, thanks to Amy, and rid herself of the ghost before next month's Jekyll Island vacation. Getting punked in front of family and friends isn't on Heather's To Do List.

HAINT MISBEHAVIN', Book One of The Ghost Handler series for middle-grade readers

"I'm glad to see that this is the first of a series. I can't wait to see how Ms. Hardegree develops Heather's character and see what other messes she gets into!" —TeensReadToo.com
"Ghostly fun!" —Gillian Summers, The Faire Folk series
"A fun package of crushes, quests for popularity, and summertime antics, tied together with a paranormal bow. Fans of Meg Cabot's Mediator novels will find much to like in Haint Misbehavin', the first of Hardegree's Ghost Handler series." —Trish Milburn Heartbreak River (as Tricia Mills), Razorbill Pic
"Hardegree taps into the exciting, exasperating and exhilarating life of a teenage girl with "Haint Misbehavin'." Her character Heather is funny, smart and charming, and the situations she finds herself in are true to the life of an average American teen.
Intended for a middle school/young adult market, this series can be enjoyed by parents, too. Hardegree plans several more stories in her "Ghost Handler" series, and her readers are sure to anxiously look forward to them." —Sharon Galligar Chance Las Vegas Review Journal


Bell Bridge
Amazon.com (paperback)
Amazon Kindle
BN.com (paperback)
BN NOOK
iBooks
Kobo
Google Play