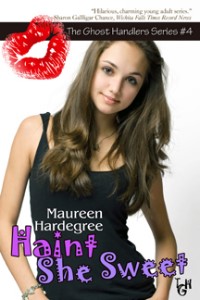 Haint She Sweet
Book 4 in the
Ghost Handler series
Bell Bridge, July 2013
ISBN: 978-1-61194-325-2
Available at:
Bell Bridge
Amazon.com (paperback)
Amazon Kindle
BN.com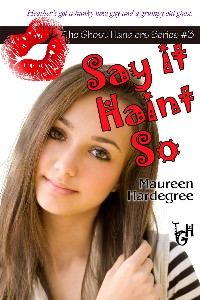 Say It Haint So
Book 3 in the
Ghost Handler series
Bell Bridge, October 2012
ISBN: 978-1-611940-14-51
Available at:
Bell Bridge
Amazon.com (paperback)
Amazon Kindle
BN.com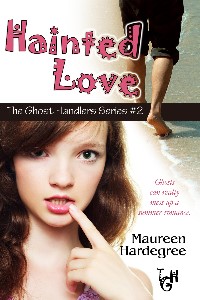 Hainted Love
Book 2 in the
Ghost Handler series
Bell Bridge, March 2011
ISBN: 978-1-611940-14-51
Available at:
Bell Bridge
Amazon.com (paperback)
Amazon Kindle
BN.com (paperback)
BN NOOK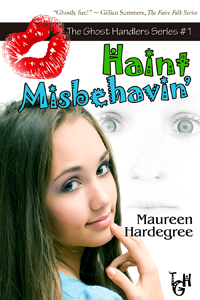 Haint Misbehavin'
Book 1 in the
Ghost Handler series
Bell Bridge, June 2010
ISBN: 978-1-935661-93-1
Available at:
Bell Bridge
Amazon.com (paperback)
Amazon Kindle
BN.com (paperback)
BN NOOK
New Short Story Available - TIMES HAINT WHAT THEY USED TO BE

HAINT SHE SWEET - Book four of the Ghost Handler series available now!
Freshman year in high school is tough enough without another ghost in the mix.
Ghost handler and high school freshman Heather Tildy seems to have it all-an older sister who is popular, a hot guy who deemed her date-worthy over the summer, and coursework just hard enough to keep her parents, administrators, and college admissions counselors happy. But as the school year begins, bad boy Zac returns to Alabama, taking the "cool" factor he lent her with him. Her luck sours.
Her freshman schedule includes first period P.E., which means she's all sweaty when she sees her first love, hunky Drew, before second-period Spanish. And the only other freshman with her lunch period is pseudo-friend Suzanne, who doesn't really like Heather.
So when a bossy lunch-lady ghost in a hairnet pushes her healthy-eating agenda on Heather-before she'll even consider moving on to the next realm-Heather knows she'll lose what few cool points she has left. She'll have to think fast to overcome her guy and ghost troubles. She's determined not to become Pecan Hills High's sweaty, nutrition-pushing freshman weirdo-not to mention the girl who talks to ghosts.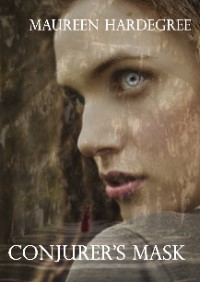 CONJURER'S MASK
ASIN: B00DTWHX0G
Historical Romance
Amazon Kindle
Dark charms . . . Deadly secrets . . . Undeniable passion
For seven years, professional nurse Elizabeth Brion has pretended to be something she isn't. She has embraced science over the conjurer's medicine practiced in the past she prefers to forget. In the autumn of 1893, when a deadly hurricane destroys coastal Louisiana, she cannot ignore the call to help and returns to the world she left behind. Rejecting her root and herbal knowledge, however, becomes difficult to justify in the face of great suffering. Even harder to keep at bay is her growing attraction to the enigmatic local doctor Holt Chatham, whose gruff exterior cannot hide how deeply he cares for his son, for the superstitious people who work his father's land, and for his patients. Will she keep her carefully wrought mask in place? Or will she drop it and risk losing Holt's love to save those around her from the dangerous conjurer who hides among them?
To local doctor Holt, the Bellevue-trained nurse who appears with the relief steamer is like a treasure tossed on shore by the deadly storm. Elizabeth's skill and cool efficiency are exactly what he needs to stem the typhoid outbreak on his father's desolate sugar cane plantation. What he doesn't need is to find himself drawn to her quiet beauty and independent spirit. Unable to deny his interest in this intriguing woman, he sets out to win her love even as the dangerous secret he's concealing looms on the troubled horizon.

Decatur Book Festival
Sunday September 1, 2013 from 2-6 p.m.
at the Georgia Romance Writers booth #529.
Georgia Romance Writers Moonlight and Magnolias
Saturday October 5, 2013 from 4:30-6 p.m.
at the Atlanta Hilton Northeast
5993 Peachtree Industrial Blvd.
Norcross, GA 30092-3466.