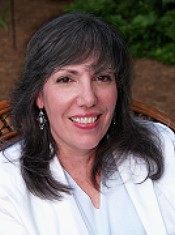 Although Georgia author Maureen Hardegree concedes to having all the usual baggage of a middle child, she is NOT a ghost handler. She does, however, believe in connecting to her inner teenager and in feeding her active imagination-it likes Italian food and chocolate. When she's not writing, she's working on costumes for the Northeast Atlanta Ballet . . . or doing the bidding of her husband, daughter, and cats Pixie and Turnip Anne.
Maureen is a past president of Georgia Romance Writers and a member of SCBWI. She is also a longtime contributor to the Mossy Creek Hometown anthologies.

Find Maureen on Facebook:


Mostly in my office, formerly the bonus room. When I staked my claim, I painted the space a lovely shade of garnet, rendering it uninhabitable for other family members who do not care for the decor. The room also houses my craft supplies and books. If I had to use one word to describe my office, it would be messy.

Maybe. When I was a teenager and I ended up on the lumpy sleeper sofa in the den, I thought I saw the ghost of my grandma at the end of the hall near the thermostat. No one believed me.

If you count an 8th grade social studies assignment that morphed into a novella about a Native American girl growing up in colonial Louisiana, then I'd say I've been writing fiction since I was thirteen.

Currently, some people call me Mo, a name friends conferred upon me in high school, and it's followed me ever since. I've even blogged for the Wet Noodle Posse writers' community as Mo H. As a small child, my parents called me Sarah Bernhardt due to my dramatic flair. In seventh grade, when my family moved to Louisiana, and I was eager to start my new life, which unfortunately did not include setting up housekeeping in an antebellum mansion, a boy in my class dubbed me Moron. In case you didn't know, children who start school two weeks late become easy targets. Needless to say, I was horrified. I did the worst thing I could do, I reacted. The name stuck throughout much of the year and eventually died a slow, tortuous death. I have forgiven the bully who made an already difficult and awkward stage of my life even worse, but my hope is that karma kicked his patootie.

Not really. Even though I was and sometimes continue to be a source of embarrassment to my older sister, she wasn't part of the "in" crowd in our high school. I am closest to my younger sister, but she's a lot smarter than the character of Claire. Plus I have something Heather doesn't-a brother. If I had to pick a character closest to any member of my family growing up, it would have to be Roquefort, the dog. We had a beagle named Chloe who had a bit of a flatulence problem when she ate things she shouldn't such as a platter of crab-stuffed mushrooms-an evening that will stink in infamy.